Thanks to iOS 10, your Messages app is way more than a texting app. Way, way more. Now that the official release of iOS 10 is out, here's your guide to using all the new features in Messages, from sending fullscreen effects to installing your third-party iMessage apps from your favorite services like Venmo, ESPN, and OpenTable.
The first thing you should know is that the recipient of your messages will need an iPhone, iPod, or iPad running iOS 10, an Apple Watch running watchOS 3, or a Mac running macOS Sierra in order to view them in their full visual glory. Furthermore, these features are exclusively linked to iMessage, so Android users will have a hard time deciphering the animations as well. For users on Android or running a previous version of iOS, these messages will show up as regular text with a description of what the visual should have been, like "(sent with fireworks)." Not nearly as capitvating.
Install third-party apps
Perhaps the most profound change iOS 10 brings to Messages is the integration of third-party services, turning iMessage into a platform. Access your iMessage app drawer by tapping on the gray arrow to the left of the input field and then on the App Store icon. This is your hub for both iMessage apps (which only live inside Messages) and extensions (which are a part of a broader iOS app). You can press down on any of these iMessage apps and extensions in the app drawer to make them wiggle so you can rearrange or delete them.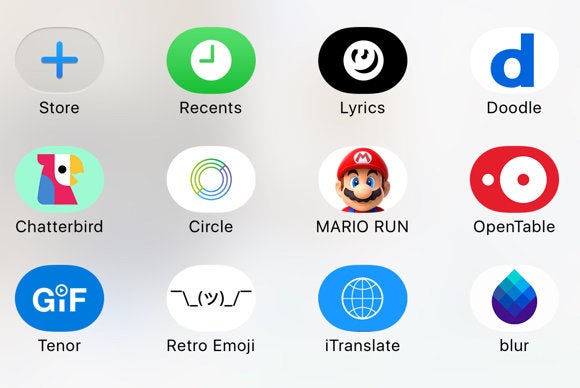 In your app drawer, you'll see your Recents, Music, Images, and Store. Recents displays your recently sent messages, whether it's a Digital Touch creation or a handwritten message. Music lets you share your most recently played song from Apple Music, which will play in-line (more on that in the visual link section). Images lets you search the web for photos, videos, and GIFs. The image search results are powered by Bing, and the results are comparable to the GIF results in Google's Gboard iOS keyboard.
In the Store, you can browse the Featured and Categories tabs to get more third-party iMessage apps and extensions, including stickers, games, and services. Here's our list of 15 free iMessage apps to get you started. The Manage tab offers a quick way to see if any of your installed iOS apps have released a new iMessage extension, and here you also have the option to automatically add these extensions to your app drawer. 
Tap-and-replace with emoji
One of the biggest crowd-pleasers at WWDC this year was the announcement that emoji would show up three times bigger in iOS 10. This applies if you are sending a message with only emoji, however. Text messages with an accompanying emoji retain the same size.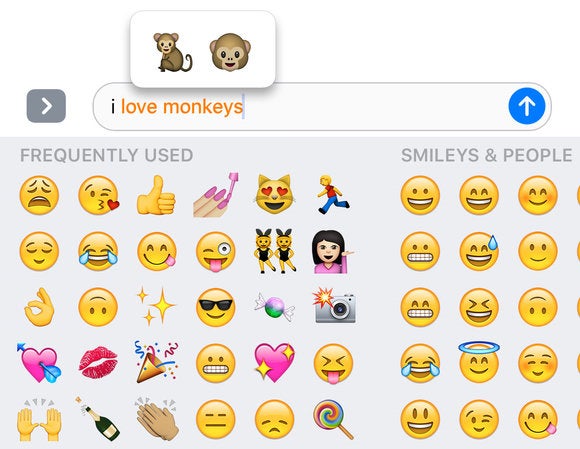 Messages also has a new tool for replacing keywords into corresponding emojis. For example, the text "I love monkeys" turns into "I ❤️